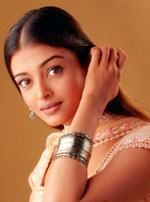 Watched Aishwarya Rai on David Letterman's "The Late Show". She looked absolutely gorgeous! She was asked questions about Bollywood, her new film and why she still lives with her parents! Ash was also asked the "living with parents" question in her previous interview on CBS's 60 Minutes (mentioned below).
The rediff.com article incorrectly mentioned the date as Feb 9. Because the show was on Feb 8 at 11:30 pm EST (which is technically Feb 9 in India, though). It's good that I checked the CBS website today because I was assuming that the show is tomorrow. I would have totally missed it!
I missed the previous interview she had on CBS's 60 Minutes (7 pm Jan 2, 2005). So, I decided to make sure I would surely watch this one. But I did get to watch a short video clip (link1 | link2) later.
---
Update (11:07 PM 2/15/2005):
Here is the list of the links to the complete videos for the two shows.
Aishwarya Rai on David Letterman's "The Tonight Show"
(Feb 8, 2005)
–
Link 1
(Note: Do not click directly. The link will not work. Right click and choose "Save Target As".)
Aishwarya Rai on "60 minutes"
(Jan 2, 2005)
–
Link 1
(AishwaryaRaiWorld.com)
–
Link 2
(Mahiram.com)
---
Update (2:33 AM 2/9/2005): Found a link to the longer (maybe full?) video of the 60 Minutes interview.
Page
|
Video
Ash is currently in the US to promote her latest film – "
Bride And Prejudice
". I won't be watching that movie though. I heard that it is boring.
Related Links:
–
Rediff.com article
Updates:
– 2/15/2005:
Discussion about Ash on the Feb 8 David Letteman show
– 2/9/2005:
Ash does fine on Letterman
(Rediff.com)
– 2/9/2005:
Ash: Actors are like gypsies
(Rediff.com)
– 2/9/2005:
Not Ash