Watched "Firewall" today. Had been wanting to watch it for some time. It stars Harrison Ford. He plays a bank expert who is forced to rob his own bank after his family is taken hostage.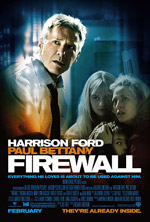 Good Movie. Definitely worth watching. Keeps the suspense till the very end.
On a side note, it amazed me how the storyline is strikingly similar to the recent $44 million Securitas bank robbery in England. Coincidence, anyone?