Today is July 4th, the American Independence Day. Went for a barbeque cookout at a friend's place. Rain was predicted in the morning but when we finally reached there, the weather was great – not too hot and with a light breeze. The barbeque cookout was fun, the food was great and met a lot of nice people.
At night, me and my friends went to Knoxville World Fair Park to see the July 4th fireworks. We reached at 9 pm but the fireworks started a bit late – at about 9:45 pm. It was great and there were lots and lots of people. I did not have a camera with me but I took a couple of pictures with my camera phone. They came out ok, but not that great. Am putting one here.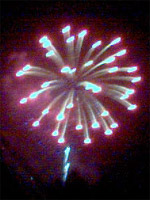 Overall, the day was great and I really enjoyed it.
Note: July 4th is the day when the Declaration of Independence was signed and adopted in 1776, declaring independence from the British. If you would like to know more about the Fourth of July, please see this link.