Google has introduced a new service called "Google Video". This engine (still in beta) enables users to search the text of TV shows. Right now, video playback is not included.
If you know the name of the TV program, you can use the "title" syntax. For example: title:tonight show
It also provides timings of upcoming episodes for a specified show and zipcode.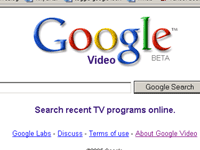 Yahoo also launced the beta of its video search engine on Jan 15, 2005.
More info:
– Google Video
– news.com article
– About Google Video